When we love someone, and we see her or him slipping away from us (physically or mentally), it can be so hard.  It can leave you feeling helpless, and often, angry.
If your mother or father ever suffered or suffers from Alzheimer's or dementia, you know how hard it can be to have conversations.  Their reality is not the same as yours, and the challenge of trying to adjust to that on the spot can be hard for many adult children.
I've been there.
When my mother's mind began to fade, she was convinced another woman lived in the house and the clothes in a particular closet were evidence of this.  She also would become angry and want to know why I had not come home from school on time (I was fully grown).  Many times, she was convinced she saw her mother in the room (her mother had died many, many years before).
It hurt and confused my father, and could make him angry.  It frightened some people.  And while it could break my heart, I learned a very valuable lesson about communicating with someone with memory challenges..
Don't argue.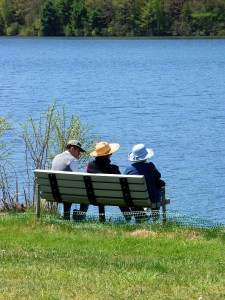 It's hard for many adult children to accept this.  They feel it's their duty to correct Dad when he says he has to get back with the squadron before it takes off.  Or remind Mom that Dad is no longer alive and she shouldn't set an extra place for him.  Or stubbornly demand a parent remember everything correctly when the simple medical fact is, they can't.   You do.  But they don't.
So why argue?
If it brings an elderly person happiness to imagine they are once again young and free, why bring them out of that?  If all your mother or father has left is the life they live in their minds, because physically they can no longer garden, run, travel, cook, or repair the car, why not let them have those moments of peace?  And if your parent is upset about something that just isn't true (such as how he or she needs to go to the bus stop right now and go home), instead of arguing, why not just redirect the conversation into a more pleasurable topic?   The less agitation, the better.  At least that's what I found.
So many times, an adult child visits a parent in assisted living or memory care and finds out Mom has a new "boyfriend" who lives down the hall.  This is often quite upsetting to the adult child, who feels he or she is betraying the dead parent.
Take a moment.  Relax the tension.  Breathe.  And think about it. Continue reading »
Laura is a long-time professional writer and creator of www.RockTheWrinkle.com, a blog for boomers all about starting over, recharging, and celebrating the wisdom that comes with the wrinkles. She's proud of hers!